Hyundai Motor Company Corporate Journalism: Hyundai Worldwide Global Newsroom UXUI Renewal
CXUX Consulting, Human-Centered Creative Design
Hyundai Motor Company is striving to build a continuous relationship with the media to establish its leadership in the global market. As a part of these efforts, Hyundai Motor Company successfully revamped the UX/UI of its corporate newsroom website in September 2023. This new newsroom is poised to become a central channel of corporate journalism that conveys Hyundai Motor Company's brand values and vision.

Hyundai Motor Company, a global automaker, introduced the world's first mass-produced hydrogen car and luxury brand GENESIS. With a vision of "progress for humanity," Hyundai leads in tech advancements for a brighter future.
Communication in a Global Market: Hyundai's Journalism Journey
Utilizing multiple channels is one of efficient ways for companies to approach to the public as a means to deliver their brand values and visions. Corporate Journalism produces and distributes in-depth, authentic content like that of a professional journalist and is one of the main communication activities of companies, along with Brand Journalism, which emphasizes transparency and truthful information delivery as opposed to simple advertising or marketing.
Companies in global markets, especially brand-conscious companies like Hyundai, are constantly challenged with communicating information effectively across various cultures and markets. For it is not easy to communicate the same message to audiences with different characteristics and expectations in different regions and countries, companies are constantly looking for ways to maximize the accessibility and transparency of their information.
Journalists and influencers serve as the main channel for delivering information to the public in their respective regions. Providing them with quick and reliable information is an important activity that is directly related to a company's brand image. Therefore, companies have dedicated platforms to provide them with press releases and other content.
These platforms are called "Owned Media" and are often referred to as Newsroom or Press Center. It is where the company's overall activities are disseminated, as well as information about their culture, social responsibility, sustainable activities, new product launches, calendar of major events, and more. Since the content is directly created and managed by the companies themselves, it has the advantage of clearly conveying their brand values and visions and intimately communicating with the media professionals, which has spurred countless companies to build and enhance their owned media.
According to several international surveys*, the media professionals have been actively utilizing the original content, reliable sources of useful information, various multimedia resource and planned news lists such as key event schedules in their corporate newsrooms.

<Table – The State of Journalism 2022(MUCK RACK)>
* The State of Journalism 2022(MUCK RACK), 2021 Global State of the Media (CISION)
However, user satisfaction in the automotive companies have been found to be lower than in other industries, which also received similar result in the Heuristic Evaluation conducted by Saltcake, with only a few companies receiving high ratings. 
Hyundai Motor Company is enhancing its PR efforts through its global newsroom and 9 regional newsrooms to align with its new status as the third-largest global sales volume and its recognition as a prominent company in the automotive industry in in 2022.

<Table – The State of Journalism 2022(MUCK RACK)>
* The State of Journalism 2022(MUCK RACK), 2021 Global State of the Media (CISION)
The global newsroom, which has distributed more than 2,000 press releases since 2010, is the central channel for Hyundai's global PR activity. However, the againg UXUI, including weak information accessibility, monotonous content organisation, text-oriented press releases, has limited Hyundai's ability to continuously build the media relationships it aims for.
In response, Hyundai decided to renew the UXUI of its global newsroom.
The initial step Saltcake took in developing an insightful UXUI redesign strategy was to gain a deep understanding of how media professionals want to experience accessing information in the newsroom. As to accomplish, we have conducted a preliminary analysis such as research on leading international cases and conducting interviews with clients and operating agencies.
A Change for Users: Fresh Start for Hyundai's Newsroom
Despite the complexity and diversity of Hyundai's newsroom, users have been finding it difficult to quickly reach the information they were looking for. This is because the automaker's newsroom covers many additional categories of news, including vehicle model-specific news, motorsports, sponsorships, and more.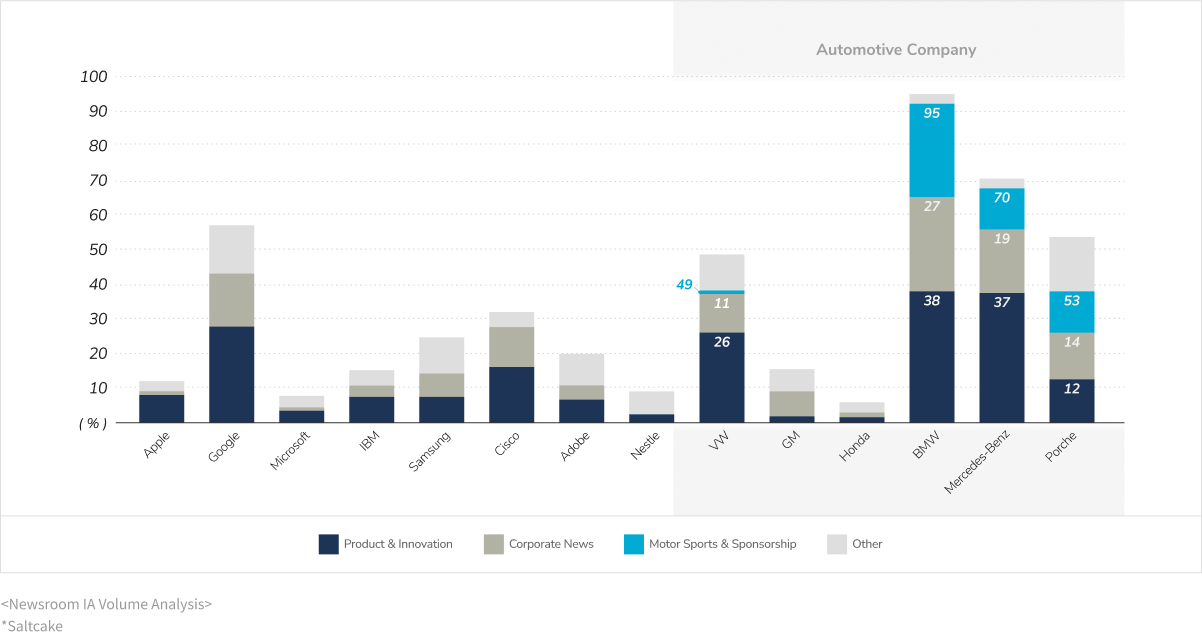 The most important thing we did to solve this problem was to introduce a 'segmented catagorization system'. Categorizing and structuring information is essential for users to quickly find what they are looking for, which became a guide for us to start by systematically classifying and organizing news and information into various categories.
It is also important to note that this categorization system is not only for the convenience of users, but also plays an important role in effectively communicating the company's brand values and vision, so it may change several times before it is finalized.
However, the segmentation of the catagorization system made the information structure 12 times larger than before. For such a large information structure can cause complexity for users, we proposed the following four UXUI solutions to establish a clear hierarchy and intuitive UI.
01. User journey-centered UI flow
The first step in UXUI planning is to accurately understand the purpose and behavior of the users. In particular, one important measure is to ensure that users can quickly find the content or service they are looking for when they approach your website, which requires a hierarchical information architecture (IA) and UI planning that focuses on the user journey.
Users visiting a corporate newsroom have two primary expectations. First, they want to quickly sift through what content is newsworthy or find the press release they are looking for. Second, they want to get rich multimedia material (text, images, video, etc.) instantly. However, most corporate newsrooms simply list press releases by time or topic, which does not provide a satisfying user experience.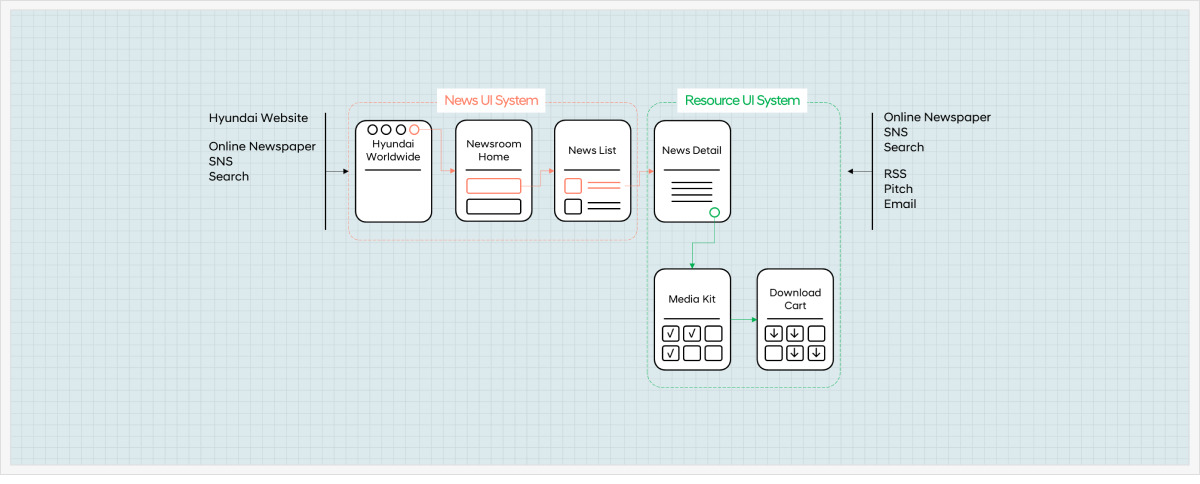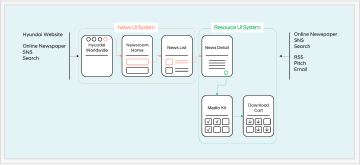 <Table – The State of Journalism 2022(MUCK RACK)>
* The State of Journalism 2022(MUCK RACK), 2021 Global State of the Media (CISION)
To overcome this, the UXUI planners elaborated an optimized UI flow by separating the user journey of Hyundai Motor's newsroom into "news navigation" and "resource navigation." This way, users could focus on their current actions and feel that the website was uncomplicated.
02. Unified UI Principles for Diversity
<Standard & Customized UI Structure>
*Saltcake
It is often believed that repetition of the same UI can simplify a website with a complex information structure, but it can undermine the diversity of information access. Instead, it is important to have unified UI principles rather than the same UI in these cases because users can easily grasp different information within a consistent UI experience.
Therefore, Hyundai's newsroom was able to keep the UI simple while maintaining the diversity of information by providing a customized UI for each topic under a unified UI principle on the topic list screen, which accounts for 90% of the total information structure.
03. Organization of Content
A good user experience isn't just about UI design or accessibility; it's about having valuable content at its center.
During the preliminary analysis phase, the content of Hyundai's newsroom was broken down into 31 components. As a result, Hyundai had a good set of core components for its press releases.
<News Structure Assessment>
*Saltcake
However, this abundance of content components was found to be hindering the UXUI renewal because the content was being managed in an operator-centric manner.

<Assessment Element>
*Saltcake
In other words, the detailed components of the content were not individually managed as a data base, which had a fundamental limitation of not being able to apply various content curations or provide users with organized content.
04. User-Centered Design Research
The roles of UXUI planners and UX designers are different but complementary. Planners focus on the components of the content and UI policies, while designers shape how users experience the content and complement the UI policies. In some cases, such as the content detail screen of Hyundai Motor's newsroom, there were multiple goals, such as providing users with a great visual immersion experience while systematically providing various components and convenience features.
In making these user-centered decisions, UX design research reporting has been an important tool to help us anticipate problems and explore different solutions.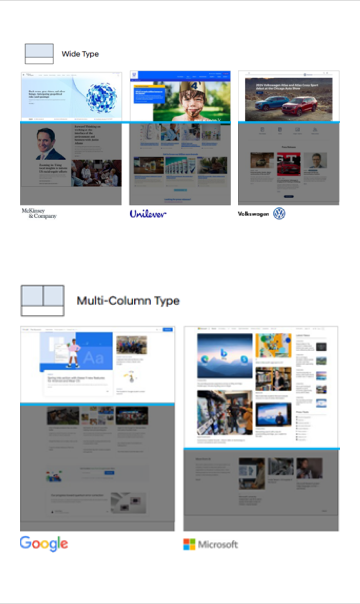 <UX Design Research – Hero Banner Area Analysis>
*Saltcake
The evolution of the newsroom: a new conversation between business and media
The UXUI renewal of Hyundai's newsroom is at the equilibrium point of user expectations and corporate goals.
Through this renewal, Hyundai was able to position the newsroom as more than just a source of information, but as the foundation for an ongoing relationship between the company and the media.